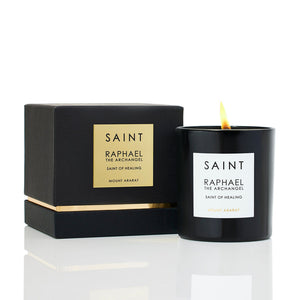 Saint Raphael, promoter of healing, you are known for your gifts of wisdom and grace, and for consoling the afflicted. Please assist me in overcoming the sufferings of this life. Because you are the "Medicine of God" I pray for you to heal the many infirmities and ailments that afflict my body and soul. I humbly ask of you the favor of healing my (name ailment).
SAINT products benefit St. Jude Children's Research Hospital to support their lifesaving mission: Finding cures. Saving children.®
Scent Profile includes 
Top Note Iris, 
Mid Note Bergamot 
Base Note Vanilla. 11 oz. Approximately 50 hour burn time.